Snippets of SARA history supplied by Jim Caspers
---
Auburn (No. 216):
A Volunteer Rifle Company was formed in the township in March 1860 with an initial enrolment of 30 at the formation meeting, with a further 20 enrolments expected. A rifle club was formed in conjunction with this rifle company in 1878 and competed with other rifle companies in the area.
In 1889 the company was reformed as the First Midland Rifle Company and had its range at between Auburn and Undalya.
In 1903 a branch of the Watervale club was established in April 1903 with its own range about 1½ miles east of the town.
The Defence Rifle Club was formed in March 1917 with Mr. S. Dennison as captain.
In October 1951 a new range was opened in the presence of members from five other nearby rifle clubs.
The Club disbanded in October 1961 following a period of inactivity.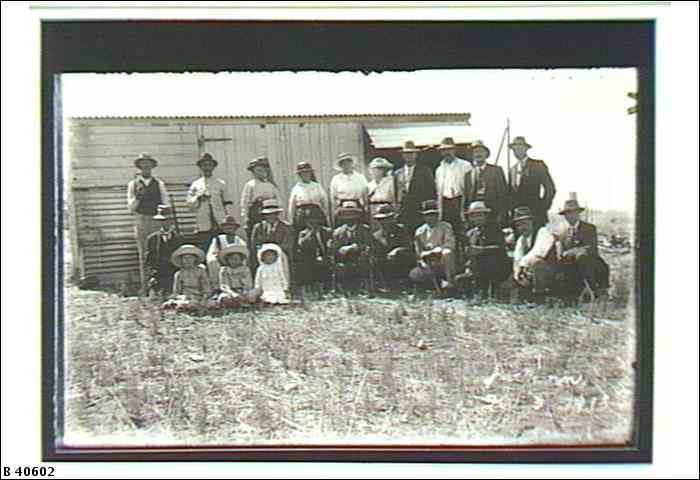 Brinkworth (No. 56):
The Club was formed in August 1901, and became an approved defence rifle club in the following month. About 45 members were enrolled and Mr. H.J. Skull was elected as president. Their first match was fired against the Yacka club in February 1902, which Yacka won by 9 points. The Brinkworth members were heavily handicapped by having on 13 rifles amongst 52 members.
The Club was disbanded in July 1911, but re-formed in September 1926, with Mr. F.W. Lown elected as captain.
January 1929 saw riflemen from the Club go on a tour of the northern areas, firing matches against teams from Burra, Orroroo, Booleroo Centre, Mount Remarkable (Melrose) and Port Broughton clubs, winning 2 of the 5 encounters. The team also inspected the brewery at Melrose on the way.
On October 17th, 1936 the Club held a centenary (of South Australia) shoot which was won by Mr. R.H. Freebairn.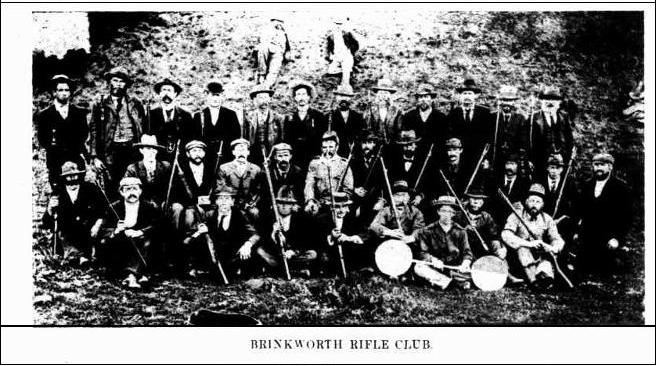 Caltowie (No. 6):
Rifle shooting is first mentioned for this area in 1880 when a social shoot was held by the recently formed Volunteer Rifle Company. Similar Companies were also formed at Gladstone, Georgetown and Laura in this year.
The locals had matches against Laura twice in 1881 and competed locally for a "Music Box", won by Private Steicke. The trophy was donated by Mr. A McCallum for many years and was fired over 3 separate stages.
Reports show an active Volunteer Rifle Company in 1884-85 with a membership of 25, including members of the brass band. Drill and matches were held on a regular basis including home and home matches against Mount Gambier and Mildura.
The Caltowie Rifle Company was disbanded in April of 1887, leaving no outlet in the area for competitive shooting, although rifle competitions were reported to be held at the local range in 1889 by the "Mid Area Rifle Club".
A rifle club was formed in the area in April 1892, under the Government regulations of that time.
The Defence Rifle Club was formed in 1896 and was approved in November of that year, Mr. A. Kerr being elected as captain.
The Club travelled throughout the North Western D.R.A. competing against other clubs. In February 1901, they travelled to Port Pirie by train for a match, which they won by 26 points.
In 1904 the council withdrew permission to fire over the park lands so a new range was constructed on a road, south-east of the town (conveniently named Rifle Range Road).
1909 was a successful year for the club, with 45 members reported to have attended a class firing day.
Mr. J.E. Lehmann of the Caltowie Club won the "Dog's Head Cup" and finished 8th in the King's shoot at the Glanville ranges in that year. He was also selected in the State Team of 1909 to compete in the Commonwealth Matches held at the Randwick range in Sydney, and was selected to try out for the Australian Team to compete as Bisley.
In 1911, a triangular match was held at Jamestown between Jamestown, Caltowie and Broken Hill, which Caltowie won with 625 points to 619 points to each of the other teams. The Club won the teams' match held at the annual Port Pirie matches in 1914.
A branch of this club was formed at Appila-Yarrowie and competed with other clubs in the area.
Activities of the Club ceased in August of 1928 and the Club was disbanded in June of 1932.